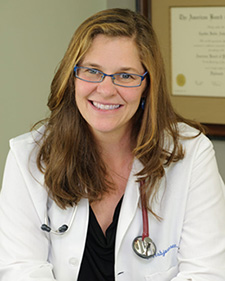 Editorial Letter:
Legs aren't supposed to hurt
Like many doctors (and parents of young children), I am on my feet for most of the day. In fact, plenty of people who come to our practice work as nurses, teachers, hair stylists and chefs. One of my patients is a lobsterman!
Prolonged standing certainly puts unnecessary strain on your veins, a phenomenon we explore in this issue's cover story "Standing on the Job." You'll read about some of the symptoms that indicate that leg pain may be due to vein disorders, as well as two studies that look at the prevalence of varicose veins among those who work on their feet.
Legs aren't supposed to hurt, even at the end of a long workday. For that reason, we share the experience of two healthcare professionals who figured out that, for them, vein treatment was the key to relief.
In this issue we also take delve into the topic of phlebitis. While it is a common condition, phlebitis in the superficial venous system has historically received little attention in medical and surgical textbooks. We explain how to diagnose and treat phlebitis early, and how to prevent it from happening at all.
Finally, in the Fall 2012 issue of Vein Health News we covered the creation and evolution of the C.E.A.P. classification system. CEAP, which stands for Clinical, Etiology, Anatomy, and Pathophysiology, is a way for doctors to effectively communicate about a patient's venous issues.
We offer an illustrative review of the clinical breakdown – the "C" in CEAP – as it is the most relevant for primary care physicians. (The collective "EAP" portion of the CEAP system is used much more often in research by standardizing the reporting of chronic venous disorders.)
The diagnosis and treatment of vein disease has improved dramatically in recent years, largely as the result of the scientific communication made possible by the CEAP – and the progressive awareness of family care doctors and healthcare providers.
I hope that this magazine continues to increase public knowledge of vein problems, especially for people who want to find solutions!
Cindy Asbjornsen, DO, FACPh
ADDITIONAL VEIN HEALTHCARE RESOURCES