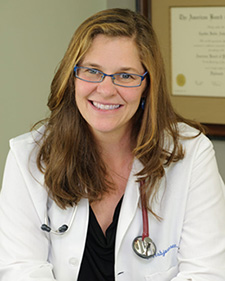 Editorial Letter:
The skin we're in
As a Doctor of Osteopathic Medicine, I was trained to look at the whole patient, to consider how all the systems work together in the body. I've carried that philosophy into my vein practice, and it's how we're looking at the cover story in this issue.
Skin is the largest organ of the body, and it contains useful information about the organs and vessels it covers, including veins. In fact, every day phlebologists use the clues in a patient's skin to help diagnose venous disorders. Vein specialists refer to the C.E.A.P. (Clini-cal, Etiology, Anatomy, and Pathophysiology) system to classify the type and severity of a patient's disease. C.E.A.P. classification includes various skin conditions, such as color or thickness of the skin.
Historically, there has always been an overlap between phlebology and dermatology. Several dermatologists in the U.S. have been major pioneers and educators in phlebology. Dr. Robert Weiss, for example, published extensively on varicose vein treatment, sclerotherapy, and lasers, and he helped develop new methods of non-invasive varicose vein treatments.
Dr. Steven Zimmet, family practice physician, is also a practicing der-matologist. He is the founding President of the American Board of Venous and Lymphatic Medicine and is a Past President of the American College of Phlebology (ACP). Dr. Zimmet has also served as editor for Phlebology: The Journal of Venous Disease.
In our second feature article, we return to a subject that's near and dear to my heart…graduated compression! We look at the increasing popular-ity of compression products with consumers and talk to two compression companies about how to make sure the compression garment you buy is the right one for you.
If you ever have questions about graduated compression therapy, please don't hesitate to drop me a line or call my office. But be forewarned that I may talk your ear off about the many benefits of compression!
Cindy Asbjornsen, DO, FACPh
Certified by the American Board of Phlebology
ADDITIONAL VEIN HEALTHCARE RESOURCES